#MFRWauthor @KayelleAllen visits #RomanceBeckons
Welcome Kayelle Allen to Romance Beckons.
Kayelle Allen is a multi-published, award-winning Science Fiction Romance author of unstoppable heroes, uncompromising love, and unforgettable passion. You can learn more about her in her Home World or on her Unstoppable Heroes Blog. She's also active on twitter and facebook.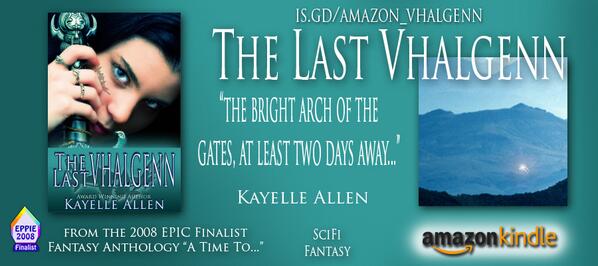 Today, she's sharing an excerpt from her latest book, The Last Vhalgenn.
In this scene from The Last Vhalgenn, the heroine, Raik, has just bathed and eaten, and is alone with King Orix. They grew up together, but his new queen barred Raik from the palace. Raik is back to deliver news of a battle and while delighted to be with Orix, is nervous about his queen discovering them.
EXCERPT
Orix set his fingers beneath my chin, and turned my face up to his. "You're more than pretty, Vhalgenn, you're magnificent. She's never once sat near the fire with me and talked."
It had been our nightly ritual. "Never?"
"Never." He brushed my hair back from my face. "I've learned to get along with her, Vhalgenn, but I never had to learn anything with you. We grew up with one another. You were my partner in everything I did. My lover, my sister, my sparring partner, my best friend. My everything."
I lifted my head to look up at him. As I did, his mouth came down on mine. A feverish chill coursed through me at his touch. I'd wanted his mouth from the moment I'd seen him on his throne. Orix could not help but be languid and sultry and hot. I felt desire emanating from him like heat from an oven with its door ajar. It scorched my face and I drew in a shallow breath, afraid of being burnt.
Resisting him was something I had never done, except in play. He thought I meant it that way now and made as if to pressure me, until he saw my eyes were brimming.
"Please, Orix. Don't." I pushed myself away from him. "I can't."
He frowned, confused. For him, life was simple. A need? Fulfill it. Thirsty? Drink. Hungry? Eat. Lusty? Love.
"Half the palace must know I'm here. Do you think your queen will let this go unnoticed? She'll have someone in here to check on me before the night's through and I won't be thrown out again, Orix. I couldn't bear it."
"Vhalgenn, I promise. She'll never know."
"No!" I moved away from him. "She's no fool. She's your queen and she's risking her life to have your child. The least you can do is be faithful."
The look of horror on his face tore out a piece of my heart. Then I realized he was looking past me.
His pregnant queen stood in the darkness, right outside the door.
The Last Vhalgenn
BLURB
Duty to king and country has shaped Raik's life since birth, but to protect them, she must perform a ritual that betrays all she holds sacred.
The Vhalgenn is a warrior, bedmate, soulmate, companion, and friend. Trusted by the king. Hated by the queen. To save the newborn prince, the Vhalgenn will risk her position, her honor, and death itself to honor the Old Ways. But when she takes the newborn prince to the queen's homeland for a ritual blessing, she discovers a betrayal so deep the kingdom -- and her heart -- might never recover.
This fantasy features a strong heroine, and was originally part of the 2008 EPIC eBook Award Finalist anthology A Time To... Volume 1 - The Best of The Lorelei Signal, from Wolfsinger Publications, which is now out of print. The strong female heroine possesses nobility, honor, and courage, and is a role model for women. The book is dedicated to all women warriors, whatever their battle, and is written by a female veteran.
Available exclusively at AMAZON.
Sign up for one email when the sequel, Return of the Vhalgenn is available.
Giveaway
Here's a giveaway for everyone, an illustrated eBook called Behind the Scenes with The Last Vhalgenn. This free eBook is an inside look at the characters and setting in the story. When you click the link, this will either offer you a download, or open in a new window, depending on your settings. To read it, you need
Adobe Reader
, available free.