Paloma's Monthly Reads: #amreading @ChristinaLauren Diana Gabaldon @Writer_DG @NatashaKnight13
From a Sweet Filthy Boy to a Savage, my diverse taste in romance genres shines through this month! Check out my top three picks from the books I read in the month of August. The key element to each of them is the relationship development between the main characters. This is what makes a book for me.
What makes a book great for you? Have you read these books yet? What did you think?
Talk To Me... Make A Comment.
Sweet Filthy Boy (Wild Seasons #1) by Christina Lauren
One-night stands are supposed to be with someone convenient, or wickedly persuasive, or regrettable. They aren't supposed to be with someone like him.
But after a crazy Vegas weekend celebrating her college graduation—and terrified of the future path she knows is a cop-out—Mia Holland makes the wildest decision of her life: follow Ansel Guillaume—her sweet, filthy fling—to France for the summer and just…play.
When feelings begin to develop behind the provocative roles they take on, and their temporary masquerade adventures begin to feel real, Mia will have to decide if she belongs in the life she left because it was all wrong, or in the strange new one that seems worlds away.
Written in My Own Heart's Blood (Outlander #8) by Diana Gabaldon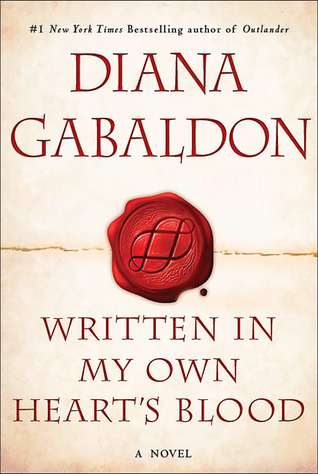 In June of 1778, the world turns upside-down. The British army withdraws from Philadelphia, George Washington prepares to move from Valley Forge in pursuit, and Jamie Fraser comes back from the dead to discover that his best friend has married Jamie's wife. The ninth Earl of Ellesmere discovers to his horror that he is in fact the illegitimate son of the newly-resurrected Jamie Fraser (a rebel _and_ a Scottish criminal!) and Jamie's nephew Ian Murray discovers that his new-found cousin has an eye for Ian's Quaker betrothed.
Meanwhile, Claire Fraser deals with an asthmatic duke, Benedict Arnold, and the fear that one of her husbands may have murdered the other. And in the 20th century, Jamie and Claire's daughter Brianna is thinking that things are probably easier in the 18th century: her son has been kidnapped, her husband has disappeared into the past, and she's facing a vicious criminal with nothing but a stapler in her hand. Fortunately, her daughter has a miniature cricket bat and her mother's pragmatism.
Given to the Savage by Natasha Knight (Originally Published as His To Breed)
In the aftermath of a plague which brought civilization to its knees and left most of the world's female population sterile, breeders—the few women who remain fertile—have become a precious commodity. Breeders live in relative comfort, but upon reaching adulthood they are tasked with bearing one child after another to carry on the species. Frequent medical assessments keep the breeders healthy and harsh punishments keep them in line.
As a breeder who has just come of age, Rowan knows she will soon be little more than a slave, but when she dares to resist her fate the penalty is severe. After a shameful, public chastisement and a thorough, humiliating examination to determine her suitability for child-bearing, Rowan is given to a savage from outside the community—a huge brute of a man named Silas—to be bred.
Against all expectations, Rowan finds herself drawn to her new captor. Brave, ruggedly handsome, and even kind at times, Silas is everything the men who enslaved her were not. When the time comes for him to breed her, despite the circumstances, something deep inside her begs for him to take her long and hard. But while she soon finds herself longing to be his forever, Rowan knows that eventually those who gave her to him will try to take her back. When that day comes will Silas fight to keep her at his side even if it means risking everything he loves?